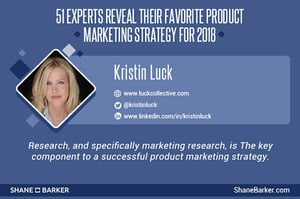 Products may come and go, but the need for marketing is something that's eternal. You may be employing cutting-edge technologies or using the best of research to create new products. But the reality is that you can only hope for returns when you have a robust product marketing strategy in place.
However, even though the concept of marketing itself may be immortal, marketing trends are constantly evolving. In order to
successfully reap the benefits of product marketing, you need to be on top of your game. To do that, you need to be aware of the latest trends in marketing and what people want.
For this post, I've teamed up with 51 experts in order to bring you some of their favorite product marketing strategies for 2018. But first, here are some of my personal favorites.